Pricing that doesn't go up.
Guaranteed

.

(Psst! Your current hosting company probably doesn't guarantee that!)
Samoyed Plan
(Originally called "Crystal")
1 GB SSD
1 MYSQL Database
No SSL
∞ Resources/Visitors*
Made for WordPress 🙂
$5/mo
$0.50 Setup Fee, once.

Siberian Plan
(Originally called "Sapphire")
5 GB SSD
3 MYSQL Databases
1 Secured Domain (SSL)
∞ Resources/Visitors*
Made for WordPress 🙂
$9/mo
$0.50 Setup Fee, once.

Malamute Plan
7 GB SSD
3 MYSQL Databases
3 Secured Domains (SSL)
∞ Resources/Visitors*
Made for WordPress 🙂
$0.50 Setup Fee, once.
COMING SOON

Developers
Technology
Solid State Drives
Litespeed Server
cPanel
Server Caching
New Jersey Data Center
Security
Proactive AI
Firewall
IP Blocking
Compatibility
WordPress-optimized
WordPress Installer
Mail
10 Email Forwarders
G Suite (via DNS)
Outlook (via DNS)
Scalability
*While we WON'T put hard limits on your account's bandwidth, if you use more than 500 GB of bandwidth, your account will be flagged for review by our Abuse department.
NEW!

Find Your Perfect Domain!
Domains start at just $10 and domain pricing does not increase after the first year like our competitors.
"Why do I need your hosting?"
If you have a website, it's definitely hosted somewhere. Host your site with us to get wicked fast page load speeds and a dedicated team that "speaks geek" so you don't have to. You'll always know your site is in good hands. Besides all that warm and fuzzy stuff, we also offer great hosting rates that are hard to beat. That's right. Our premium hosting starts at $5/mo.
Shhh. It's a secret. So, tell everyone.
YOUR sites will load up to 9x faster than the big competitors like GoDaddy or Bluehost.
Fully-featured hosting plans starting at only $5/mo.
No call-centers, and no sales gimmicks.
No hidden fees or surprise price changes. Ever.
We love WordPress! All accounts are WordPress-ready.
"Do I really get reliable hosting with your prices?"
Yes. Here's proof.
 

HostHuski

BlueHost
GoDaddy
HostGator
Renewal Price of Smallest Plan
$5.00
$7.99
$7.99
6.95
Renewal Price of SSL Plan
$9.00
$23.99
$29.99
16.95
Wordpress Plan
$5
$39.99
$19.99
$14.95
24/7 Monitored & Secure

✓

--
--
--
∞ Traffic/Resources

✓

--
--
--
Linux Servers

✓

✓

✓

✓

24/7 Customer Support

✓

✓

✓

✓

Inbound Website Migration

$0 Anytime

149.99
$99
Limited
North American Support


With agents in USA &/or Canada only

✓

Unknown

✓

Unknown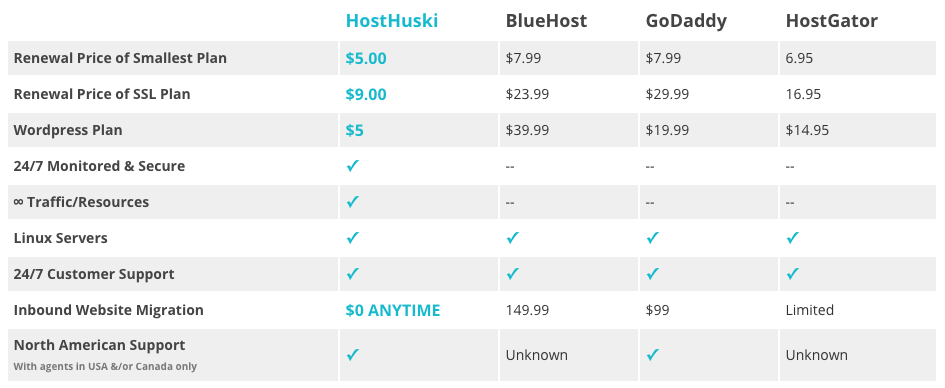 Save Money. Stop Worrying.
You won't find a better deal on hosting anywhere else! Tired of price increases? Our Price Lock Guarantee means your rates will not go up for select SmallDot hosting products. And that's a pinky promise. Just look for the Price Lock logo to know you're good to go.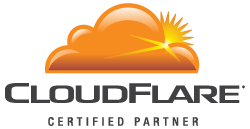 Now Proudly Certified by CloudFlare
We are a certified CloudFlare partner which allows us to provide even FASTER page loads and protection to our customers using their world-class Content Delivery Network. Cloudflare is available to you in your cPanel account or by request. Learn more about CloudFlare here.
Enterprise SSD Storage
We provide you with lightning fast solid-state storage  & plenty of bandwidth to power each and every one of your web sites.
Embarassingly Fast
Embarassing for our competitors, that is. You need a fast website to prevent your visitors from leaving. Our sites load up to 9x faster than GoDaddy, Bluehost, HostGator and other big-box hosting companies.
Unlimited 24/7 Support
Our superstar support team is available 24×7 through our ticketing system to solve any problems you might have.
cPanel Control Panel
cPanel makes it easy to review your hosting stats, create email accounts, main databases, settings & more.

PriceLock Guarantee
We don't trick our customers into paying more later, like Godaddy, and Bluehost. We promise the price of your plan will not go up. Ever.
Applications & Tools
Install your favorite applications, including WordPress, with just one-click! Need help installing? We'll do it for you when you sign up for a new account with us.
Drag & Drop Web Builder
Divi is the most popular premium WordPress page builder in the world and the same we used to build our HostHuski website. And we're including it for you to use with your WordPress site, free.
Hassle Free Billing
Did you miss a hosting bill or two? That's ok. We know what it's like to run a small business. Your website will stay up and live even if you miss your bill. We'll always give you plenty of time to act before anything happens.