We provide agencies speed, security, & peace-of-mind.
Increase client happiness, reduce support calls, and fix the speed of your clients' websites just from switching to HostHuski.
Test a client's site on a free staging URL for 30 days to see the difference for yourself. Cancel any time.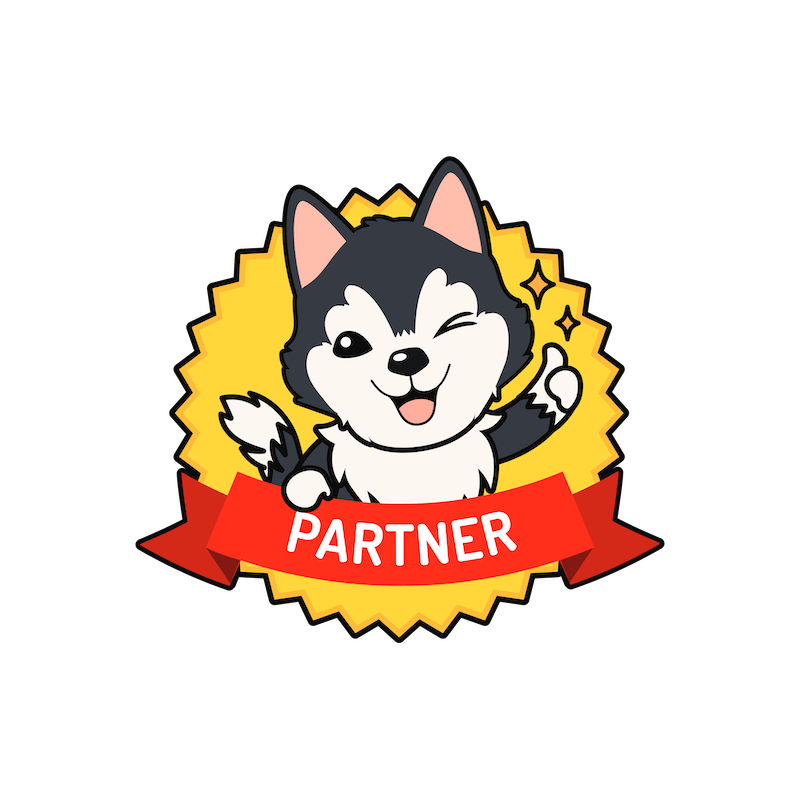 Why Become a HostHuski Partner?
Hosting Originally Designed With Agencies In Mind
HostHuski was created by an international creative agency based in Utah. We know the importance of good support, fast servers during high traffic, dealing with domain settings (DNS), and quickly and easily migrating websites for clients. So, we handle all of this for you.
Unlimited Free White-label Staging for Client Sites
Design websites? Get unlimited, FREE white-label staging for your client projects and free migration services when you're ready to launch them.
Increase Client Retention
Your clients will like staying with you for the reliable web hosting and their after-website needs while our amazing white-label hosting service will continue to bolster your reputation.
Take a Peek At Our Other Partner Perks:
Learn why we offer one of the best partner hosting programs anywhere!
Save at least 15% on Hosting Purchases
HostHuski Partners can take advantage of our discounted volume pricing (starting at 15% off for 2+ plans) to make reselling our hosting a breeze. We provide recurring wholesale rates so you can control what to charge your client and what kind of profit you can make. It's that easy.
Optimized & Traffic-Ready
HostHuski servers already run smooth and fast, like a german sports car. We keep our servers tuned and monitored 24/7 for performance and uptime. Traffic? Bring it on, baby.
1-Click WordPress Install
Install and use WordPress in seconds with 1-Click installation from your control panel. No code or technical skills required. Need an install done and configured for you? We do the installation and configuration for free too.
Complimentary Website Transfers
We migrate each and every new website that comes into HostHuski absolutely free, but HostHuski Partners get priority.
Highly Secured Hosting Environment
Our servers are monitored and secured inside and out with state-of-the-art proactive firewall systems and SSL powered by LetsEncrypt CA.
Dedicated Account Management
Partners have a direct contact here at HostHuski that can help solve their priority support issues, and answer questions as your business grows!
Build their website under your name, not ours.
Enjoy white-labelled client project URLs with your free staging account.
clients.mycompany.com/myclient
dev.mycompany.com/myclient
stage.mycompany.com/myclient
White-labeled staging URLs.
Maintaining your branding is important when you're using any white-label service. Just point your subdomain and allow your client sites to be built under YOUR company's name! This service adds credibility to you as the company and transparency for your clients. 
Unlimited staging sites under your name.
We can offer unlimited free staging sites on our server, because we want to support your growth, and unlike our competitors, we'll let you keep your staging sites as long as you like for free while you are an active HostHuski partner. Enjoy unbridled scalability without additional cost.
Mhmm. That's right. Pay nothing to make sites for your clients. Only pay when you launch them onto their own hosting plan with us.
Let us handle the messy technical stuff.
We can migrate their site, mange DNS, and advise you on website best practices. All for free.
Let us launch your client's newly designed website
When you are ready to launch a new website you've made in your staging account, fill out a migration request and we'll get your client launched as soon as we can! We usually migrate new websites to live within the same business day.
Take advantage of our expertise
Have a question about website best practices, DNS, or other topics related to WordPress hosting? We're always available to help.
Pro-rata Hosting Billing
Have all your hosting plans due on the first of the month to simplify accounting and reduce charge frequency on your payment method. Just select Pro-Rata versions of our hosting products.
Our partners enjoy the special touch they get with our whitelabel hosting service. We migrate sites for you, you get wholesale rates on our reliable web hosting plans, and you get a direct contact with someone ready to help.
HostHuski Partner Program FAQs
Here are common questions about our Partner Program.
HOW does your DISCOUNTED pricing work?
Discounts are applied at checkout and on every renewal with a special Partner coupon code.
What HAPPENS IF I Suddenly drop a tier? Does my bill go up?
Not at all! For example — if you bought a Hosting Plan at Tier 3, and later cancelled other plans down to Tier 2, you would still pay the Tier 3 price for that plan even though you aren't in Tier 3 anymore! Discounts stick to the plan you purchased until cancellation. Only NEW signups are affected by your current Tier level.
WHAT IS THE 50 cent Fee FOr?
Our credit card processor has a minimum charge that is not met when you buy a new account pro-rata a certain amount of days before the next billing cycle.
It is just to ensure there are no hiccups in processing your order. This fee is charged ONCE per plan purchase and will not be repeated on renewal. If we charged more for hosting this wouldn't be an issue. But we figured instead of charging you more per month, you could pay a small amount on your first order to ensure it goes through.
WHAT DO I HAVE TO DO TO QUALIFY FOR THE PARTNER PROGRAM?
All you have to do is own a client account with us that contains 1 or more of our hosting products. They can even be your own! As the amount of hosted domains grows in your account, so do your savings!
Don't have an account yet? That's ok! Let us know how many clients you want to bring with you when you apply. We can get you the discount you want to start with if you onboard the equivalent amount of domains the same month you sign up!
HOW WILL MY CLIENTS PAY ME FOR HOSTING?
Your clients will pay you directly for the services you are providing. This allows you to determine the price that you want to charge for hosting (as well as giving you the option of adding in other services)! For payment processing, we highly recommend Stripe.
Do you oFFER/register domains?
Yes! You can register your domain when you buy hosting. We offer .com for only $13/yr. Other domain pricing can be seen when you search for a domain. We try to keep our domain pricing as affordable as possible.
Can I have my own personalized nameservers like ns1.mydomain.com?
When using a nameserver for full control from your Hosting Account (cPanel) you and your clients will be required to use our nameservers to host sites with HostHuski. Clients don't usually notice or care what the nameservers are. Using our nameservers is optional but encouraged for maximum support.
CAN I REFER CLIENTS TO HOSTHUSKI WITHOUT BEING A PARTNER?
Yes! While the HostHuski Partner program is perfect for client sites you want to handle and charge for hosting, you can also refer us new hosting accounts and we will credit you $1 towards your account balance (if you have one with us) one time for every new signup that month. Just make sure they mention your business name when they sign up. Note: Their business will stay with us. If you ever decide you want them to be part of your Partner account, let us know! While we can't provide a discount on the billing to you as they wouldn't be a new signup, we can still provide the same partner benefits for that account.
CAN I STAGE SITES THAT WILL BE TRANSFERRED AWAY FROM HOSTHUSKI?
We prefer that you use this free benefit of being a HostHuski Partner to stage sites that will be on new HostHuski hosting plans. Conditions of service are provided when you become a Partner. There is no membership fee to become or stay an active Partner.
What Our Current Partners Say
★★★★★
We have used HostHuski for a number of our clients and what sets HostHuski apart is affordable rates combined with highly responsive and knowledgeable customer service. …When a client had a question about hosting, out of country resources, co-location etc, HostHuski provided extra-mile help, after hours to accommodate the difference in international time zones. HostHuski has become our global hosting solution of record.
Jamison, Davis & Partners Worldwide
–Jamison, D&P Worldwide
★★★★★
Online marketing agencies are only as good as the services they offer. Server dependability plays a vital role in the success of marketing strategies. As a company, we demand a minimum of 99% server uptime and rapid response on any issues that may arise. HostHuski has proven time and time again that they are willing to go the extra mile to take care of our clients' web assets as a cohesive member of our internal team. Because of their exceptional customer interface, server speed, and dependability, HostHuski is our sole solution for hosting.
–Carrie, Think Big Sites
★★★★★
HostHuski have true premium web hosting service. As a developer, they are great to partner resource to have. They are quick to follow up with support, their speeds are way faster than a dedicated server I use to have. Security is great too. Feel free to use me as a reference. For a regular business website, you normally pay 3x as much through other big companies for better service. You'll thank them later, I know I did.
–Matt, Atlas Internet Marketing
Sign Up As a HostHuski Partner Today!
No contract, commitment, or quotas.