What Does It Mean to Value Customers?
A lot of companies say they value customers first, but what does that mean? All companies understand that without customers, there's no business. It's a given, but valuing customers means you place the needs and convenience of the customer first. It's about giving the best service so your customers want your service over others. A company can say they value customers, but do they really? Here at HostHuski, we very much value our customers and here's how.
1. No Commitment Hosting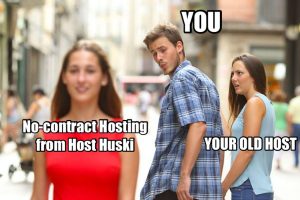 There's an old joke about men never wanting to commit. Yeah, we all have a good laugh, but commitment isn't always good. In fact, when it comes to business, commitment contracts are an exploitative business practice that shows a business doesn't value customers.
A commitment is about making a customer stick with your business. When companies make you sign a commitment contract, they're trying to ensure you stick with them. If you don't, they can charge you hundreds of dollars for terminating your service with them, even if it's the last month of your contract. It's a way of keeping you from leaving if you're dissatisfied, or of milking you for extra money if you do leave.
Many companies try to make a commitment contract look more appealing by offering a discount on it, but this is just the bait in the trap. Once you sign up, you're stuck with the contract even if they can't (or won't) offer you the full benefits of the service they promised. It also disguises the actual cost of the service. This is why HostHuski never asks you to sign commitment contracts. Instead, we're up front about our costs and our services. If you aren't happy with what we offer, you're free to find someone who will give you want you want.
2. No Hassle Billing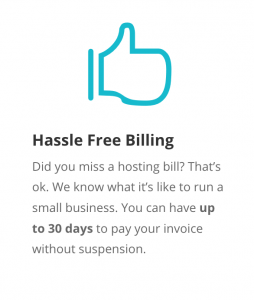 Sometimes, you just miss a bill. Maybe you didn't do so well this month at work. Maybe your credit card expired and you forgot to put your new one into the automatic payment system. You might just forgot to pay. It happens.
Here at HostHuski, we understand. Other companies might immediately suspend your service, or charge you a late fee if you're even a day off. We don't do that. We know your website is critical to your business. If you lose your website, that's lost sales, which only makes it harder to pay the bills going forward. We don't want that, so we offer you no hassle billing. If you miss a bill, we'll let you have thirty days to pay it off without suspending or terminating your service. You can even get your late fee waived if you talk to someone from Live Chat. You'll never have to sweat the small stuff when it comes to paying with HostHuski.
3. Free Divi Theme
Your theme is the backbone of your WordPress website. It helps you maintain consistency on all your pages and it lets you build your website without needing to know how to code. While there are plenty of free themes out there, good themes can be expensive. When you sign up with HostHuski, we get you the Divi Theme for free!
Divi is a theme that's easy to use, whether you're a tech geek, or completely new. It has an easy drag and drop feature and a front-end visual builder that lets you see what your site looks like as you build it.  Editing pages is quick and easy. It's also SEO Marketing friendly, so you can use it to help you with your content marketing strategy.
But you don't have to take our word for it. See what one of our customers was able to do with Divi.
HostHuski Values Customers First
Here at HostHuski, we don't believe in using dirty tricks like "special discounts" that trap you into unreliable services. We want our customers to get the most out of our hosting. We offer you no commitment hosting, no hassle billing, and we'll even throw in a free theme to help build your webpage. Don't let other hosting companies rope you into a bad deal. Get started with us and we'll help you get every advantage you can.
Do you already have a website? Are you dissatisfied with the hosting services you're currently getting? We can help you there, too! We'll help you migrate your website to our servers for free! Get away from a bad service without having to worry about extra charges!
Interested? Why not get in touch? Talk to us directly and find out how we can help you!