You have to have an existing hosting plan with us for the site you want to migrate in order for us to do the migration for you. If you did not yet purchase your hosting for this site from us, you'll need to do that first.
We make it easy to submit your migration request directly from our website. We even include an Expert Mode for those in a hurry or who don't need all the help text and warnings.
See a screenshot of our Migration Request form below.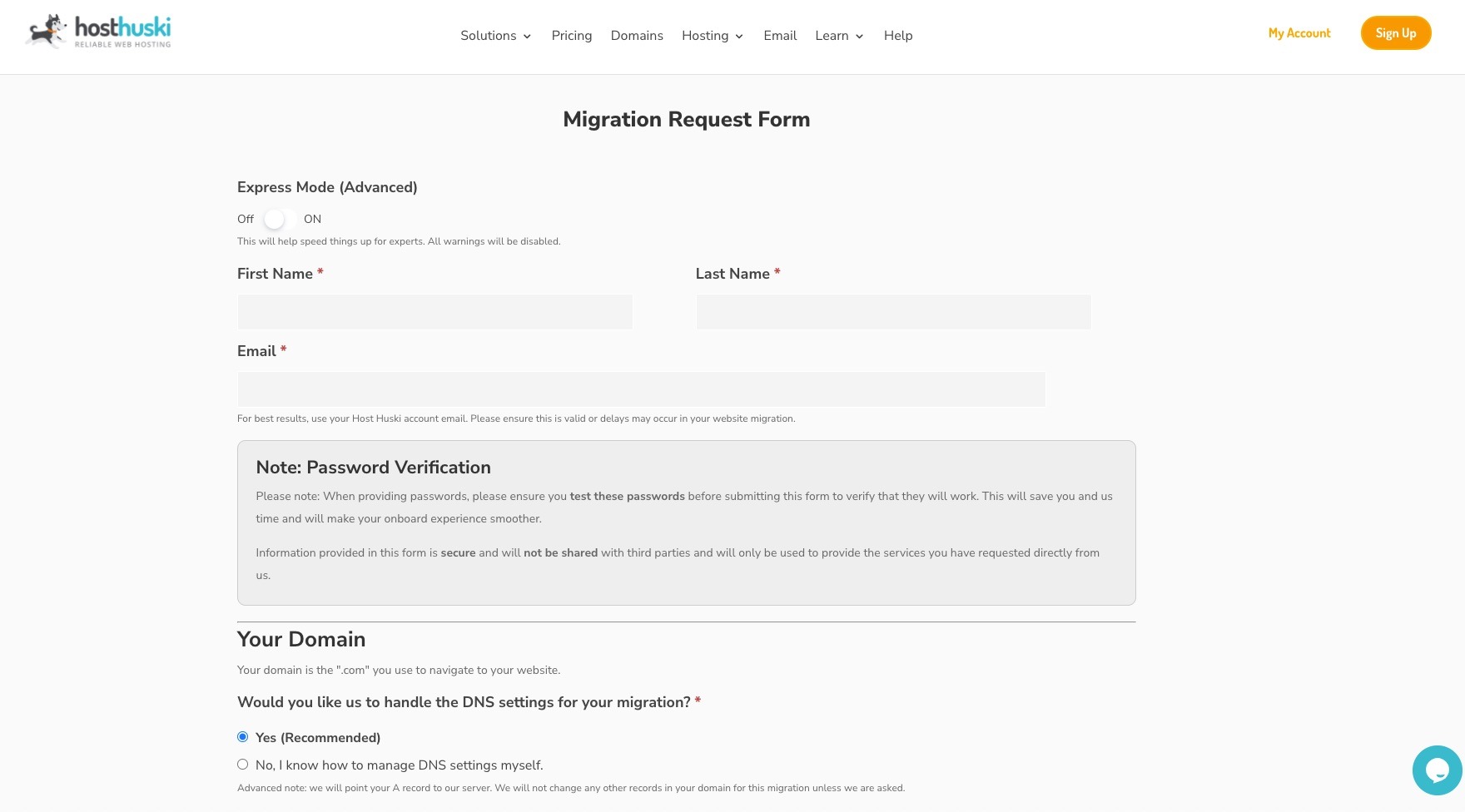 Once you've filled out the three sections of information requested, we'll receive your website migration form submission and will begin testing your credentials, first. Let's break down the three sections in the form that you'll need to fill out.
Domain Registration
If you want to have us handle the pointing of your domain (DNS) we are happy to help with that. For those who aren't familiar with the technical aspect of domain management this can be confusing and discouraging. We try to make it easy for you by doing it for you. If you want the help, we just need to be able to login to your account with your domain provider. If you need help figuring out who your domain provider is you can ask us on Live Chat or a support ticket. We have a way to lookup this information for you. For domain registration credentials we'll need your username or customer ID number and your password. We will also need you to turn off Two-Factor Authentication (2FA) or we won't be able to get in!
Hosting Account
In some cases, we'll need to access your previous hosting account to verify site size or to investigate an issue preventing us from being able to backup the site. In some cases, access to your hosting account will be necessary to make the backup in general. In any case, when you can provide the hosting account information we only use this if necessary. We won't cancel or modify the details of any of your products or services with your previous host. That's not included in our free website migration process.
(WordPress) Website Login
We need to access your WordPress website as our first choice to make the backup. We can also advise on the size of the installation as part of our free website migration process. We'll also need to be able to access and test the site once it is finished being migrated. Sometimes you might use a different login URL for your WordPress website. We provide you a way to specify what this is if applicable.
After each of these credentials are tested you'll see an update to the status of the credentials in your Migration Tracker. Go to the next article to learn more.