We are aware that this may happen on some sites that use caching. Your cache might be broken. Here's how to fix it.
Step 1: Find the LiteSpeed Cache icon
HostHuski uses LiteSpeed technology to aid in optimizing server performance. We enable the LiteSpeed Cache system on all new one-click WordPress installs by default to ensure you get the very best out of your service.
The LiteSpeed Cache system is one part of what helps speed up your site. It does this by creating and storing static snapshots of the pages on your site. The icon for the LiteSpeed Cache system is a diamond shape logo in your admin bar.
While logged in, this icon is accessible from most anywhere (including the pages of your site) on your WordPress website.

Step 2: Select "Purge ALL"
When you select or move your pointer over the icon, you'll see a dropdown menu. Select Purge All from the menu to reset the cache and bring your site back to normal. You should notice the weird look to the site has vanished completely when you refresh the page you were on.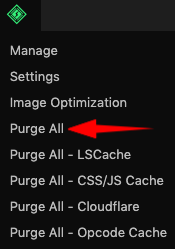 That's it!
Let us know if you need any additional help by starting a chat or creating a support ticket.